AustroPUR is unique in its construction and combines the most desirable attributes of two different pre-insulated pipe technologies into a single system solution:
- outstanding flexibility
- saving on installation costs
- superior energy-saving insulation performance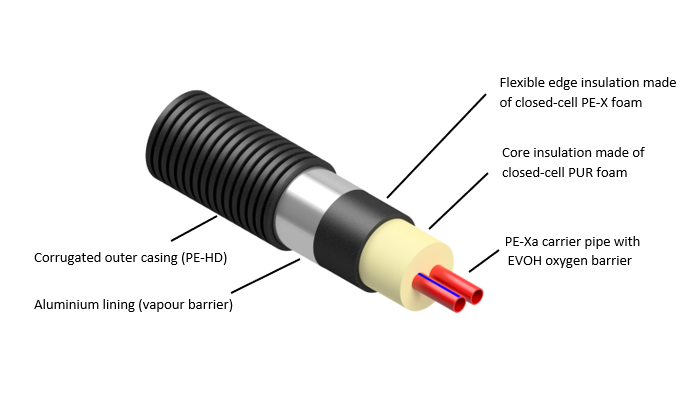 The AustroPUR pre-insulated pipe system consists of four perfectly matched high-grade components:
- High-grade corrugated HDPE outer casing for enhanced mechanical protection and excellent system flexibility
- PE-Xa carrier pipe with EVOH oxygen barrier (with marking for a clear distinction between flow and return)
- Innovative combination insulation made of PUR foam (core with thermal conductivity λ50 = 0,0219 W / mK - EN 15632) and closed-cell PEX foam (edge insulation) with an aluminum lining as a vapour barrier
Energy-saving requires good and reliable piping systems. That is why the pre-insulated piping systems from Austroflex are an excellent choice. Thanks to the combination of the highly flexible PE-X-insulated systems with the superior insulation performance of PUR-insulated solutions,  AustroPUR is up to 50% more flexible in comparison to classic PUR-systems and has up to 50% lower heat losses than PE-X foam insulated systems.
The light and flexible pipes are suitable for local and district heating applications and have the advantage that they can simply be laid in curves and around obstacles. As a result, fewer preformed connection pieces are required, reducing both installation costs and the risk of leakage

.
- Reliable high quality standard
- Flexible and lightweight design
- Fast and easy installation
- Long and maintenance-free service life
- Superior insulation performance
- Environmentally friendly manufacturing
- Custom-made products on request
- District heating systems
- Heating, Sanitary water
- Transportation of chemicals
- Carrier pipes: PE-Xa/ PN6/ SDR11
- EVOH Oxygen barrier in accordance with DIN 4726
- Max fluid temperature: + 95 °C
- Core insulation, made of closed-cell Polyurethane foam (PUR)
- Edge insulation, made of PE-X closed-cell insulation foam with an aluminum vapor barrier
- Flexible PE-HD corrugated jacket pipe
- Dimension depending, full coil lengths: from 85 m up to 340 m
- Bonded system acc. To EN 15632-2

We also offer a comprehensive range of dedicated couplings and accessories, giving us the capability of providing a Total System Solution to our clients. Our accessories allow for quick, easy, and uncomplicated installation and connection. Both compression and axial press fittings, as well as electrofusion fittings, can be used. AustroPUR is available as single or double piping system. The individual components and the production are CFC-, HCFC- and HFC-free.